Sprinkler System Installation and Repair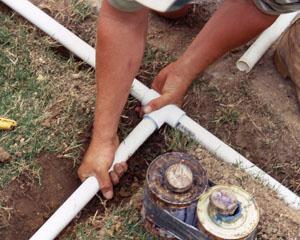 Your lawn demands good irrigation to be at its healthiest, and your sprinkler and irrigation system should be able to deliver. This is why take added consideration in to soil content, grass, sun duration, and lawn layout (ie, patterns, shape, flowers, shrubbery, trees, etc).
Sprinkler Design
Before we can start digging in your sprinkler system, we need to create a layout plan first. The first step in designing a sprinkler system is to visit the site, take pressure and flow readings, then we evaluate the soil type, slope and sun duration and other conditions. The last piece of the puzzle is customer requests. Some customer request rotating sprinklers while others prefer pop-up. While we make our design recommendations based on optimal water usage and conservation practice for your lawn and soil type, we do take in to consideration the wants of the customer.
Sprinkler Repair
A good sign that your sprinkler system is broken somewhere is either a steady stream of water in your yard or gutter, or a marshy pit in the yard somewhere. It's important to note that if the marshy pit is next to the house, it may not actually be the sprinkler system, and may be house pipes. If that's the case, visit Jim England Plumbing. In either case, we will be happy to come evaluate the area in question. Other more obvious signs of disrepair are missing or broken heads, and heads that have very little water pressure.
We Repair or Replace:
Broken Sprinklers
Broken Sprinkler Pipes
Non-working or Malfunctioning System Timers
Valve Box
Stop and Waste
During our inspection of you Sprinkler System, we will complete the following:
Inspect each zone and head to insure they are operation properly and that everything is working together efficiently.
Clean and adjust nozzles when applicable.
We will make recommendations and notify you of any future thing you may want to be aware of.
Upon request, request we will set your controller to reflect the proper watering at the time of our visit.
We offer light instruction on the proper use of you sprinkler system.
As part of our dedication to quality customer satisfaction, we promise to put your lawn back the way we found it before we leave. Nothing's worse than having your lawn torn up and then left for you to do the repair.